William Gribbons, Ph.D.
Director, Graduate program in Human Factors and Information Design
Bentley University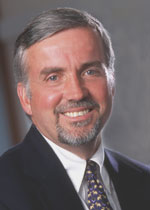 Dr. Gribbons is Director of the graduate program in Human Factors and Information Design at Bentley University, Waltham, Massachusetts. The Information Design Program at Bentley is among the largest and most respected programs of this type in the country. Dr. Gribbons is the founder of the Design and Usability Center at the College. In 2002, he was named Distinguished Professor of Human Factors in recognition of his contributions to the college and the profession.
Dr. Gribbons received his Ph.D. from the University of Maryland. He is an Associate Fellow of the Society for Technical Communication (STC) and was a member of the Technical Communication Editorial Board. He is also a member of the Association for Educational Communications and Technology, the Human Factors and Ergonomics Society, Usability Professional Association, and the ACM SIGCHI. He is a popular speaker at local and national conferences addressing issues of information design, human factors, and the user experience. His long-term research interests center on the building of a unified theory defining the user experience.
As an expert on the user experience, Dr. Gribbons has been quoted in The Boston Globe, Boston Business Journal, Cox News Service, Mass High Tech, USA Today, the Associated Press, The Washington Post, East Bay Business Times, ABC 20-20, Business 2.0, a nationally syndicated radio show (A Touch of Grey), US News and World Report, and the Atlanta Journal Constitution.
Over the years, Dr. Gribbons has consulted with leading companies around the world on the topics of usability, information design, and the user experience. Clients include:
A C Nielsen
Addison-Wesley
Avid Technologies
Bayer Diagnostics
Bellcore
Blue Cross Blue Shield of Massachusetts
Bose
Branson Ultrasonics
Centerline Software
Ciba Corning
Cisco
CoMed, Inc.
Computer Associates
Digital Computer
Dupont Company
EMC Corporation
Hewlett-Packard
Hitachi Computer
HighMark Blue Cross and Blue Shield
IRI Software
JP Morgan
Lotus Development
Millipore Waters
Monster.com
Motorola Computer Group
NYNEX
Physical Sciences, Inc.
Praxis International
Rational Software
Salt River Project
Sprint
Staples
TMP Worldwide
US Robotics
US West
United States Navy